---
For the Week of March 12, 2007
---
Kate is not feeling well this week, so I will be jumping in for this week's AMC Spoiler commentary. I don't have the turn of a phrase that our Kate has, but I promise you that she will be back at the helm soon.
Katrina
---
Just when you would think that everyone in Pine Valley would be reveling in the new life brought by Spring, the capture of a maniac serial killer and the knowledge that Love has not died and been shoved kicking and screaming into the cold, cold ground with its harbinger, Babe, the real crap starts to hit the fan.
No one seems to be grateful for the bountiful blessings and new opportunities that have been placed before them. Nah, they question and they complain and they don't just look the gift horse in the mouth, they start pulling out its teeth and poking them into its eyes.

Annie can't just be grateful that someone wants to marry her in spite of her giant lips and chibi anime eyes. I mean really, slap some Mick Jagger lips on that little thang to the left and tell me you don't have ol' Annie. But no, Ryan is willing to overlook all of that and still have her for his wife. But noooooo. She's whining and crying and screwing up her little face because he didn't ask her CORRECTLY. He didn't tell he loves her. She's afraid he'll change his mind later. Blah blah blah. Considering that she SHOT him and brought a rapist to town in her wake, you'd think she'd be a little bit more thankful when the town saint gets down on his knees and begs her to be his wife. She should be bobbing her head up and down like a Chihuahua in the back glass of a VW bug. Take the ring and run, brat, and stop complaining about it! I notice she wasn't asking all these questions before she spread'em wide for Ryan in the stables on Valentine's Day! This interview process might be something she wanted to start BEFORE she put out.
Zach gets a whole company given to him on a silver platter by a guy who isn't going to be able to hurt anyone again for the rest of his life. With all of the first degree murder charges that will be levied against Alexander Cambias, we won't be hearing from him for quite a long while. Take the company and run, boy! It's not as though a company is personified or anything. It's neutral and the energy of the motives of the person running it are all that matter. Quitcher bitchin, give Kendall a hug and a squeeze and a twirl around, pass out cigars, buy Myrtle a mansion and get over it!
Babe gets a second chance at life after she was snatched from the jaws of death by three men who put their very careers in jeopardy to save her skeevy little butt. Instead of counting her blessings and having an "I'm alive!" party, she's whining and crying about being forced to leave her family forever. Get well, get out of the hospital and take JR for all he's got! I'm sure that once the alcoholism and history of violence is brought up, plus the line of character witnesses who are willing and eager to testify that Babe is Love, any judge in the land will be willing to hand over all of the Chandler assets to Babe AND her Mama for having the good sense to bring such a fine Angel on Earth into our midst! Then she, Krystal, Li'l A and Josh can live happily ever after in the Chandler mansion while Adam and JR sell pencils on the corner and sleep in a dumpster with the Duke brothers from "Trading Places."
That all makes sense in AMC land. The question that resonates through the Halls of Justice right now is what will befall our show once Megan McTavish is officially gone as Head Writer and we get in new blood to the staff. Typically, a new broom sweeps clean and there is an instant cast overhaul. Who will stay and who will go? What will be the pervading theme of the show once a new scribe takes over? Is the Devil we know better than the one we don't or is a risk worth it?
Only time will tell...
Zach is furious when he reads that his father has given him all of Cambias Industries.
Yeah, you gotta hate it when parents give you billion dollar companies just to piss you off. If it bothers him so much, I'll bet he could sell it for a pretty profit, especially since he invested no money in acquiring it. I think he should put it on the market and split the profit with Ryan who, in theory, was running the company for lo these many years and now is jobless (somehow, I can't see him cashing an EDD check) as a result of Alexander's actions. That's a fine severance package, don't you think?
Jonathan tries to persuade Annie to accept Ryan's proposal.
Maybe he can just beat her into submission until she says yes.
Zach doesn't react as Kendall expected to the news of her pregnancy.
I can just see the little bun in her oven turning into embarrassed cinders. Poor thing.
With Kendall's rosy view of the future fueling him, Zach allows himself to embrace the idea of fatherhood and feel joyful over the news.
Well it's about time he got into the spirit! He should be hanging out the upstairs window, asking a boy in the street if the prize turkey is still hanging in the butcher's window.
Babe and Bianca share an emotional reunion.
Because as we know, Babe is love.
Ryan and Kendall catch one another up on all that has been going on.
Ooh, do they act it out?? (I hope they act it out with costumes and voice variances and maybe even a nice soundtrack scored by John Williams!)
Zach surprises Kendall with a romantic gesture.
Oh gee. I hope it doesn't involve one hand making an O and the other hand making a 1 and the two meeting up into a Tab A - Slot B situation. That would be tacky.
Ryan is completely determined to convince Annie to marry him.
Maybe if he treated her like crap the way Terry did, she'd be more into the idea.
Bianca goes off on Barbara after she reacts negatively to Zoe.
Barbara is, sadly, serving very little purpose here, which is just a damned shame. I was really hoping for a little more getting under Erica's skin.
Bianca and Zoe share an intimate moment that is interrupted by Josh.
Doh! Who knew Josh was such a frickin buzz kill?
JR is thrilled to see Babe alive and begs for a second chance.
Second.. third... twentieth... who's counting?
JR thanks Josh for saving Babe's life.
Yes, he's a really, really good guy, isn't he?
Bianca and Babe are not convinced that JR has changed.
Yeah, well, history is not in his favor in that respect.
Erica gets a tip from Josh that the Carey women have a secret and asks Tad to investigate.
Talk about asking the fox to keep an eye on the chicken house...
Josh convinces Krystal that the only way she can take away JR's power over Babe is to tell the truth about her baby.
Meaning the only way he can blow things up so that he can have Babe for himself. He's such a Kane.
Adam quizzes Colby about what she knows regarding Krystal's secret.
Wait, I've lost track! Does Colby know anything? (Not just about Krystal's secret, but *anything*?)
JR tries to convince Krystal not to tell Adam the truth, telling her that Adam will be furious.
I think that's putting it mildly. I'd put it more at "Adam will kill people."
Josh doesn't mention to Babe that he asked Krystal to tell all, but JR manages to get to her in time to warn her of what Krystal plans to do.
Um, yeah, leaving that little tidbit out might be critical. So far, the score is JR: 1; Josh 0.
Bianca goes off on Josh for meddling in Krystal's life.
I'd go off on him for interrupting the intimate moment a few spoilers back, then get into him for meddling in Krystal's life. With Josh, there's just so much to bitch about that you can start anywhere and just keep moving. It's good tension release!
Krystal tells Adam the truth.
Hmmm. When? I'm thinking at about 3 minute until the hour and about 2 minutes before hearing, "Next on AMC."
Take care, folks and by all means, be particular,


---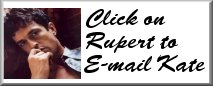 ---
Kate's AMC Spoiler Archives For 2007
Kate's AMC Spoiler Archives For 2006
August 21, 2006
Kate's Back!
August 14, 2006
By The Media Ho
August 7, 2006
By The Media Ho
Kate's AMC Spoiler Commentary
Archives Through 2005
Plus...
A Cynic Soaps Up - AMC and OLTL
OLTL Archives For A Cynic Soaps Up