---
July 27, 2006
---
Darlings!!! *I*AM*BACK*!
How I missed all of you! (Skip on down to the next section if you are only here for soap info, you single-minded, uncaring, self-absorbed bastards... the rest of you who love me, read on!)
It has been quite a month. I swear, July has always been my very favorite month of the year (since it contains MY BIRTHDAY) in it as a really good kick off. That may change after the terrible, horrible, no good, very bad July I had this year! FIRST, my birthday plans got moved and not only did they get moved, they got moved to the other side of ME BREAKING MY ARM AND WRECKING MY BELOVED IMPALA!
The EOS girls actually did a pretty good job of theorizing how I did the deed. I especially loved Carolyn's and all I have to say is that yes, one could break an arm bone trying to lift and manage the mighty beast, I must confess. It's not a job for amateurs and an old Burger King commercial comes into my mind, if you know what I mean.
Instead, alas, it was much less interesting and far more tragic. I decided to go for a late night drive and have a little smoke as I was doing so. The road was wide open and I was in a lovely state of mind. It was around 2am and I was the only one on the road, which is how I like it. The top was down; the little raccoon ass on the aerial was blowing in the wind. Classic rock and roll drifted from the speakers. All was right in the world. I went over a bump and dropped my smoke right in my Netherlands, just below the lair of the Mighty Beast and damn if I didn't scream like a girl and start digging around on the seat, basically driving standing up, trying to find the flaming nubbins before I lit my boys on fire. All of this happened as I was coming up on a curve in the road and the last thing I remember is pausing my frantic search long enough to hold up a Wile E Coyote "Oh Shit" sign seconds before I slammed into a might big Oak Tree (how ironic for a Druid). The Oak Tree was remarkably uninjured and just sort of stood there, wearing my car like a Texas belt buckle.
I woke up in the hospital, already tubed up, strung out, bandaged, bruised and with my right arm in a cast. I had burns on my taint (I think that hurt worse than anything), a bonk on my head that was slightly concussed, and a broken arm. I was really lucky not to have any internal injuries (well, they were all internal when you think about it, except for the taint). The seat of my car was a little scorched and it was pretty well destroyed from the windshield forward. See? That is why a person should always drive a classic car with a big ass front to it to avoid broken legs and ruptured spleens and fractured pancreas and things like that.
So I spent a couple of days in the hospital, then was finally able to go home. My arm gave me hell for a couple of weeks, even though it was well set in the cast. They even re-x-rayed it to make sure it wasn't set wrong and it was fine, just an ugly break. Last week, it started feeling better. It helped that they changed over my pain medication to something better. For the first week or so, my muscles and joints were really sore and I had to keep dunking into the jacuzzi to be able to continue moving, which would normally be wonderful, except that we are in the middle of a terrible heat wave, so the hot tub is even cooler than the outside air.
A couple of days ago, I figured out that I can type if I go really, really slowly and try not to use my thumb very much. I have to dip down and hit the space bar with my forefinger, which is a hard habit to create, but every time I use my thumb to do it, I have a shot of pain run up my arm that puts my teeth on edge.
So I thought I'd try to peck out a News and Gossip column. The delightful and gorgeous Dianna has, Katrina tells me, offered to take over the GH and OLTL spoiler commentary for this week and the beautiful and delicious Carolyn is all set for next week. It is my hope that by the following week, I will be healed enough to go into both columns again. For now, I will be lucky to get this one done.
The good news is that a mechanic Kurt knows (for those of you who wondered if he would take advantage of the situation to gift me with The Head, I still have it from after the wedding, biding my time before I make my move), who is evidently a miracle worker with car frames, has been able to pull the frame back out and do some kind of welding magic that while it will not restore my beloved car to its complete former glory (the frame will be a little weaker than before, but still stronger than the pieces of tin being manufactured these days), will get it back to good condition again. I almost wept with joy when I heard that.
Once my arm is released from its plaster prison, life should be returning to normal here at Casa Sage. For now, onward to the soapy gossips...
---
AMC
Lance Bass is gay? Who knew? (Who didn't know is more like it - It's not AMC, but it had to be said.)
Interesting tidbit: Eva LaRue (ex-Maria) was married to John O'Hurley (J. Peterman on "Seinfeld" and Kelly Monaco's final competition on "Dancing With the Stars") before she wed John Callahan (ex-Edmund).
Teri Ivens' father is a rock drummer turned Christian pastor.
Jeff Branson (Jonathan) was PISSED at Super Soap Weekend 2005 when a fan slipped him the tongue during a "Who Wants To Be a Soap Star Live" scene. For the record, folks, that's totally uncool... unless, of course, the actor tongues you first.
Wait for them to initiate tongue. Just make sure it's tongue and not gum.
Brent Weber ("Point Pleasant," plus guest bits on "Scrubs" & "CSI: Miami") has been cast in the role of Travis and Barbara's son, Sean Montgomery. His first air date is slated as August 15th.
---
GH
---
Don't be fooled by the misleading headlines ABC Soaps in Depth is screaming out, "Tamara's Back!!" She's back on screen in a movie called "Limbo Lounge" about a guy caught in a traffic jam between heaven and hell. She will play a character called Anya who is quite the femme fatale.
Wrack up another flop for Megan McTavish (AMC Head Writer) and crew. ConFusion definitely got the right name and is as dismal a mess as was the Fusion launch party with all of the white ladies. When are they going to figure out that Fushion just isn't the story they think it is? (and that not every female in Pine Valley is required to work there or be fired from there?)
Tyler Christopher is back for another year unless "Secrets of a Small Town" is picked up midseason by ABC or NBC.
Robin Christopher is due to deliver her second baby absolutely any second now. When she returns after a brief maternity leave, Skye will, however, still be pregnant.
What does the tattooed priest at Manny's bedside mean? It means that portrayer Robert LaSardo is returning to the role of Escobar Gallardo on the FX series, NIP/TUCK laser this summer.
Luke Spencer's lookalike cousin, Bill Eckert, was originally slated to have an affair with Bobbie (would he not also be her cousin then?), but the notion was scrapped when the idea was leaked and fans freaked out.
Don't worry about losing the consummate Edward Quartermaine any time soon. Barring natural disasters and such, John Ingle inked a fat four year contract when he returned.
The wonderful and much missed Robyn Richards (ex-Maxie) will be guesting on the UPN show, "Veronica Mars." No air date is given yet. She will play a sorority girl named Shania.
Be still my heart! Rumors are buzzing again about a possible return of Patrick MulCahey to the writers' table. If only...
---
OLTL
---
Felipe Dieppa (I swear to God, that's his name, like Flippa Dippa), who plays Ricky, Starr's boyfriend, has been let go. He will last air the end of this month. Poor girl just can't keep a beaux, can she? Head Writer, Dena Higley, calls Ricky, "a bus stop on the highway of life."
One of my forever favorites, Darnell Williams (ex-Jesse Hubbard, AMC) is returning to ABC, this time on the other side of the camera. Williams has been hired as a director for OLTL.
Easton is staying, Easton is going, Watkins is staying, Watkins is going, place your bets...
FX is garnering yet another ex-ABC daytimer. Next on line is Sherri Saum (ex-Keri, OLTL) who is playing Franco's new love interest on "Rescue Me."
Trevor St John (Todd) is an avid drummer who attended Whitworth College in Washington on a jazz performance scholarship. He also founded Bioconstructs, a fitness consultation company that creates fitness and wellness programs for fire departments and other high risk jobs.
Paul Satterfield (Spencer) majored in English Literature at the same college, Whitworth in Washington.
Sorry it's so short this week, but, well, OW! I'll be back next week with more News and Gossip.
Hugs!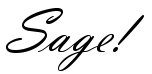 Now lovey, come on, go make a donation for Sage!!
Click here for credit card
& PayPal donations:

---
Archived Columns
Sources: ABC Soaps In Depth, Soap Opera Digest
& various internet soap rumor hangouts.