---
Looking for new columns from Sage??
Go to www.sagesplace.com
---
Aug 10, 2006
---

Happy Thursday, My Darlings!!
I am so excited to be back again hosting our weekly little spoiler, news and gossip conflab. I love doing this more than anything, I think.
There is a bit of news that I would like to share with you that I find very exciting. Several years ago, Katrina initiated the idea (and I have not seen it anywhere else on the net or otherwise) of Spoiler commentary where we break the spoilers into bullet statements and insert our snark interstitially. First, she did it, then Kate Brown joined in, then Sherry Mercurio and then me. It's the best kept secret as far as soap writing goes because it is just tremendous fun.
I've been keeping that fun to myself where OLTL and GH are concerned for a while now. During the time that I have been recovering from my accident (*moment of silence, heads bowed please*), Dianna and Carolyn from Eye on Soaps have stepped in for me and gotten a taste of the Spoiler Commentary sweetness.
Since I already cover spoilers here (and can flesh them out a bit in the future), we have decided to rotate the spoiler commentary around the rest of the staff who is interested so everyone can have a go at it on an ongoing basis. I think Dianna and I are the only ones who will be providing spoiler commentary on OLTL unless Emeraldax wants to play, so we will see how it unfolds.
I will be covering both shows this coming weekend, then I think Kelly is doing GH next week. Regardless, you will always hear my take on the upcoming spoilers, news and gossip right here in this column.
Speaking of which...
---
AMC
Spoilers for the coming week:
Jonathan tries to reason with Jack.
Jonathan tells the truth to Lily and ends up breaking both of their hearts in doing so.
Desperate to keep Babe, JR encourages Eric to pursue her plan to seduce Josh, but Josh is nothing if not focused!
Di and Aidan have sex again.
Sean Montgomery (Brent Weber) comes to town and Erica and Jack do not see eye to eye regarding the young man.
For that matter, neither to Colby and Sydney.
JR confronts Tad about Dixie, but Tad assures him that he does have proof implicating his mother; he will just never use it.
As Terry gets closer, Ryan assures Annie of his complete support.
Dixie sends David packing and tells Zach that she loves him.
She also admits that she does not expect him to return her feelings.
Assisting in the ruse that provides an alibi for Zach and Dixie, Kendall attacks Dixie for trying to steal her husband.
Once alone, Kendall and Zach share a passionate kiss, but Zach wonders if Kendall's jealousy might be real instead of feigned.
Ryan figures out what Kendall, Zach and Dixie are up to and asks to join the team, but becoming Kendall's fake love interest.
Ryan and Zach clash... is it real or is it part of the scam?
Derek is not so easily fooled.
Kendall gets an eyeful.

News:
It's going to be a battle of the Sweet Sixteen parties between Sydney and Colby with singing star, Jordan Pruitt appearing at Sydney's party and Jesse McCartney (formerly of "Dreamstreet") sings at Colby's. These air on September 9th and 12th.
Carolyn McCormick (Law and Order) debuts as Martha Leighton, an attorney hired by Jack to resolve Lily and Jonathan's marriage, on August 11th.
Cady McClain (Dixie) loves her character's "newfound spunk" and says it's a "long time coming." Personally, I think it just makes her more annoying and insufferable than ever.

Commentary:
Does anyone else suspect that AMC is looking to recreate the magick of Anthony Geary and Julie Marie Berman (Luke and LuLu on GH) with this horrible pairing of Ambyr Childers with David Canary? Canary, of course, is a legend, just as is Geary, but although Childers is an actress of seemingly average talent, she's no Berman and seems woefully uncomfortable and out of her element in scenes with Bobbie Eakes or her onscreen dad. The story feels forced and contrived (as does most of AMC these days), similar to when a spontaneous party erupts among friends, then you try to duplicate it and just can't get it right.
From the bizarre and confusing case of "who killed Greg Madden" to the convoluted mess that is Fusion to the weirdly machinated handling of Josh discovering the source of his origin, on AMC, there is just no place to hide. Every story just stinks to high heaven and it just keeps getting worse and worse.
---
GH
---
Spoilers for the coming week:
The fallout spreads from the bed swapping of the black out... Sam is remorseful and goes to Jason to confess.
Elizabeth faces the hard fact that her marriage to Lucky is over.
Dillon and Georgie receive their divorce papers.
Colleen sees red when her plot goes awry and she inadvertently brings Emily and Nikolas even closer together.
Liason fans get one night of passion (Aug 14).
Ric becomes worried when Alexis has yet another coughing spell.
Robin and Patrick start to make love, but news that April is being kicked out of the hospital for being poor interrupts them.
Sonny intervenes and pays for April's medical expenses.
Sonny and Robin reminisce about Stone.
Patrick gets a lesson in love from an unlikely source and later, tells Robin that he loves her.
Sam warns Ric to stay away from her.
Jason reaches out to Sam.
Lucky continues his downward spiral.

Other Spoilers For Beyond This Week:
Alexis keeps what she's seen a secret, not letting Ric or Sam know that she is aware of what happened between them.
They will not find out she knew until her health crisis becomes critical (lung cancer).
Sam makes plans to leave town.
More situations come up to make Ric feel like he's on the outside looking in.
Lucky asks Liz to give their marriage another try. Although she agrees, the drug problem he is battling is nowhere near over and ultimately leads to a tragedy.
Sam almost sees Elizabeth and Jason together.
Jason and Elizabeth agree they have no regrets about making love.
Georgie finds out that LuLu is pregnant.
LuLu, on the other hand, confides her condition to Sonny.
Jax is back on Aug 25.
RUMOR ONLY: A genetic condition leads to the knowledge that Spencer/John is not really Nikolas' son at all; Jax really IS the father.
RUMOR ONLY: WUBS reports indirectly that Johnathan Jackson may be returning for the anniversary of Luke and Laura.

News:
News comes to us that Ben Hogestyn (Lucas), who has been on recurring (and seldom seen) status with ABC's "General Hospital" has been contracted into a role on the "The Bold and the Beautiful." After the big reveal that Lucas is gay, followed by a tearful, immediately pre-death scene with dad, Tony, Lucas washed away with the bathwater and was almost never seen again. The official word is that the role will be recast "when storyline dictates," meaning "not any time soon."
Do not look for Chuck Pratt to be returning to his head writer duties any time soon. When the other co-head writer, Bob Guza, recently speculated that he did not expect a return, he obviously knew what he was talking about. Pratt, who has been busy with such projects as "Desperate Housewives," and the now dead duck pilot, "Secrets of a Small Town," was named Executive Producer of the Fox series, "Vanished."
At this point, Pratt is not expected to return to his GH desk for the foreseeable future. In absence of Pratt, the usual favorite rumor regarding the writing staff has resurfaced: the return of Patrick Mulcahey, best dialogue writer ever. There are no bones to hold up this wonderful body of gossip, but it's a lovely thought and sometimes, the grapevine is right!
John Ingle's dressing room is "the hangout" where you will likely find a number of GH stars hanging out and mingling. Ingle keeps a stash of pretzels and jelly beans on hand for his guests.
When SOW asked Scott Clifton to tell them something about Julie Marie Berman that most people don't know, he had a list prepared, "...afraid of spiders...covers her mouth when she laughs... covers her mouth when she cries... wants two things that she's never gotten in her life: for a boy to be able to name a bunch of things about her... for a boy to write a song about her." Looks like Scott Clifton just named a bunch of things about her... I wonder if he's written a song.
Nancy Lee Grahn pays Kali Rodreguez (Kristina) every time she (NLG) slips and swears in front of her.
Stuart Damon has the "Toreador Song" from Bizet's opera "Carmen" as the ringtone for his phone, saying it makes him smile when he hears it.
---
OLTL
---

Spoilers for the coming week:
Langston approves of Starr's manipulative scheme to reunite her parents (she fakes her memory loss and pretends to believe her parents are still together).
Rex gives Dorian a harsh warning.
Both Todd and Cris escort Evangeline to the Palace Gala.
Lindsay confronts RJ and Nora about their renewed closeness.
Bruce has plans for Adrianna.
Kelly is surprised and hurt by Hugh's actions.
Spencer buys an engagement ring and surprises Blair in a big way.
Layla fails to see the real Vincent.
Michael gives Marcie some good news.
Nash learns that Jessica has even more of Tess' memories.
Jessica runs into Claudia.
At the end of her rope, Jessica unleashes her anger on both Antonio and Nash.
Nash reads Tess' journal and is heartbroken by her words.
Jessica encourages Antonio to rejoin the police force.
Once he is reinstated, Antonio investigates a kiddie porn ring that is connected with Norman Leeds.
Adriana is surprised to learn the lengths her mother will go to in the name of love.
News:
Phil Carey has returned to the role of Asa Buchanan, taping new scenes for upcoming episodes. Carey took medical leave from the show to combat lung cancer. It is expected that now that Carey has returned, the story of who exactly Spencer Truman is to the Buchanans will be explored.
Although Tuc Watkins has agreed to extend his stay at OLTL to finish up David's storyline, his heart is still on the West Coast and he is expected to leave once that story is complete.
That's about it, my dears! I hope you have a marvelous weekend!
Hugs!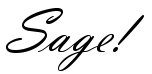 Now honey, I am totally counting on you go to make a donation for me!!!
Pwweeeease???
Click here for credit card
& PayPal donations:

---
Archived Columns
Sources: ABC Soaps In Depth, Soap Opera Digest
& various internet soap rumor hangouts.