---
For the week of August 27th
---
This week our journey through AMC's Love in the Afternoon Summer of Sorrow continued.
Ian has survived two surgeries with no guarantee he will make it out of the NICU. Greenlee's "oops, I changed my mind. My bad" car accident left Spike deaf. Kendall has tumbled over the edge of reason. Annie's secret past is causing asthma attacks. Greenlee's actions have caused a major rift between Jack and Erica. Ava and JR were held hostage. Adam lost Chandler Enterprises. Ava planted drugs on Sean. Jamie left the Valley. (His departure doesn't bother me but it makes some viewers sad.)
Are we having fun yet?
I love stories that are dramatic, heart breaking, tense, and filled with regret. Soaps wouldn't exist without them. Soaps also wouldn't exist without romance and passion; AMC seems to have forgotten that. Amanda and JR aren't romantic. True their relationship isn't lacking in sexual heat, but what could have been a surprising romance between childhood friends isn't happening. Aidan and Di's relationship lasted about as long as it takes to heat up canned spotted dick. For any number of reasons Jonathan and Ava as a couple is more disturbing than romantic.
After a week of AMC we should feel entertained, not exhausted. After the past few weeks of angst I need a Xanax almost more as much as Kendall does. At this point an Adam and Krystal reunion would be a welcome respite. (Not really, but see how desperate I am?)
This doesn't mean I am not enjoying the SpikeIan story. The effect of the boys' medical problems on the adults who love them is surprisingly true to life. One of the wonderful things about being a couple is having your partner help you through a rough patch and vice versa. However, when both partners are going through hell at the same time, things get much more complicated. Zach is used to taking care of Kendall and Kendall is used to him taking care of her. Kendall believes, with good reason, that Zach will catch her every time she falls. This time, however, they both are in trouble and it's hard to tell what will happen next. Zach is angry about dealing with Ian's second surgery alone. Kendall is angry at Zach for letting Spike go home with Ryan. Neither one is perfect; this situation is highlighting both Kendall and Zach's imperfections. In real life, there would be three outcomes for the Slaters. One, they could divorce. Two, their marriage could continue but with the coldness that comes from anger and disappointment. Three, going through this trauma together could strengthen their devotion to each other. It will be interesting to see how this all plays out.
Meanwhile, I am having my own little trauma. Actually thinking Ryan was right about Spike was fairly traumatic for me. Ryan was even right in being furious about Kendall sneaking Spike out of the hospital. Those scenes could have even been good had Ryan's anger been expressed with any semblance of nuance.
I am doing my best to keep this all in perspective; the new writers have made a good start on cleaning up the mess Megan MacTavish left behind. It has been a Herculean task.
Of course my opinion of them will change if the Summer of Sorrow is followed by the Autumn of Angst and the Winter of Woebegone Wailing.
What else. What else.
"It's killing you but you accept it because you deserve it." Clearly Annie took responsibility for her past actions. Greenlee? Not so much.
"He's right. Ryan's right." Not long after Zach spoke these words speed skating became the most popular sport in hell.
"nasty and vile comments thrown my way" Uh, Krystal I think you left out a word. That sentence should read "nasty, vile and true comments thrown my way."
"Am I legless?" (Insert your favorite "third leg" joke here.)
I am glad Tad mentioned Dancing with the Stars because I haven't seen any commercials for it, have you?
"OMG. Spike you're home." OMG . Greenlee never knows when to shut up, does she?
"Every ounce of your energy must be focused on this child." And this week's anvil of foreshadowing fell on our heads.
"You were my first friend in Pine Valley." Babe seems to have inherited her mother's proclivity for incomplete sentences. I believe the complete sentence should read, "Your were the first person in Pine Valley I had sex with while illegally married to JR because I was already married to Paul."
Tad had me at hugging Jamie but lost me at ragging on Adam's parenting skills.
"You are out of your mind." Here's little tip for you Ryan, it's never a good idea to say that to a person who is undoubtedly out of her mind.
Zach letting Lily feed Ian was sweet. Lily not telling Zach the survival statistics for preemies was even sweeter.
Winifred in jeans wasn't nearly as exciting as Adam or Jack in jeans, but it was a pleasant surprise.
Who would have guessed that Josh would turn out to be the best brother-in-law in the world? Not me.
Where is Adam?
Why isn't Erica giving Kendall a break by watching over Ian? Is she afraid a staff member will refer to her as Spike's grandmother?
Why did TPTB not bother to explain where Brooke was? How difficult would it have been for Jamie to say, "I can't wait to start working with Uncle Jake on his AIDS project. It's great that Mom is already there researching a Tempo article so I'll get to see her, too.)
"Here I am. A saint in waiting." What saint name would JR pick? Saint JR? Saint Junior? Saint Satan is my personal favorite.
"Tad, if it was Myrtle I would not have said "no." Spotted Dick knows how to make me smile.
"Ava, since your rack isn't on the menu, keep it covered. The menu only has room for one rack and that's mine." OK, so that isn't exactly what Krystal said but it is what I heard in my head.
Will this week's spoilers be disturbing, romantic or exhausting? Let's see.
This week scary things happen in the Valley.
Annie's stalker leaves her a gift and a note. Annie knows her stalkers identity but refuses to share that knowledge with the viewing audience. Annie calls her father to warn him about the stalker. Annie's father also refuses to tell us who the mystery person is.
OK, don't tell us. See if we care.
Kendall agrees with Ryan about not subjecting Spike to Rasputin's Dr. Hilliard's treatments. Later she sneaks away from Zach to give Spike a dose of Rasputin's Dr. Hilliard's vitamins.
I'm shocked. Who would have guessed that a Kane woman would hide her own agenda by lying?
Krystal and Tad kiss.
See, I told you scary stuff happens.
The FACE OF FUSION just won't go away will she?
When JR looks at Ava all he can see is dollar signs.
And all Ava can see when she looks at a man is dollar signs. Maybe those two crazy kids are perfect for each other after all.
Amanda is less than thrilled with JR's interest in Ava.
So am I, Amanda, so am I.
Amanda complains to Babe about how hard it is to keep Ava in line. Babe advises Amanda to buy a cattle prod and a Taser gun.
OK Babe doesn't really do that, but it sounds like the perfect solution to me.
Other stuff happens, too.
This is Greenlee. This is Greenlee's brain on drugs.
Greenlee begins taking pain medication and her behavior is transformed. I wish I knew whether the transformation is an improvement or not.
Aidan and Greenlee's chance encounter leads to something more. And I don't mean bungee jumping.
I'll need to borrow some of Greenlee's stash to get through this one. Poor Spotted Dick.
Krystal arranges a surprise birthday party for Tad.
And if you think it was easy to find an ice cream cake shaped like a box with an air hole on top…
Annie suggests that she, Ryan, Emma and Spike move in with the Slaters.
And thus the Slaters' home turns into Wildwind East.
Jack agrees to the talk show but only after inserting a sex clause into the contract.
It would be more fun if Jack secretly added a clause requiring Erica to let her daughters' children call her Grandma.
Annie has a nightmare about Ryan dying.
One woman's nightmare is another woman's happy dream.
Here's to another week in the Valley!


---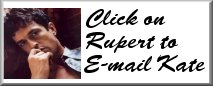 ---
Kate's AMC Spoiler Archives For 2007