---
For the Week of November 19th
I see a bad moon a-rising.
I see trouble on the way.
I see patron saints and sinners.
I see bad times today.
(apologies to John Fogerty)
It was strange seeing so many Pine Valley residents driving, wasn't it? I'm not saying it was wrong but it was strange. Next week maybe we'll watch them hunting for parking spaces.
I'm just kidding. Erica and Kendall driving in the dark heightened the feeling of apprehension. The full moon added just the right touch of scary.
In contrast, the Lavery brothers pursuing Richie added quite a bit of humor. They were being so macho (or what passes for macho in the Lavery family) that I wouldn't have been surprised if they had pulled off the road so Jonathan could howl at the moon while Ryan wandered around marking his territory. The brothers fed each other's delusion that not only can Richie be handled but that they can be his handlers. After all, isn't that why Ryan hired Richie, so he could keep a handle on him 8 hours a day? Ryan was so busy posturing about having Richie under his thumb that he failed to notice Richie was spending his office hours figuring out how to hack into the company's email accounts.
Way to go, Ry.
I'm not saying Richie is a good person. After all he didn't keep his date with Lily. Clearly he needs a few etiquette lessons. You don't stand a girl up just because someone is about to expose your murderous past.
Richie may not be a good person but he certainly is a quick thinker. His speed in framing JR for the hit and run was impressive. Everyone will believe that JR is guilty because he is EVIL. Of course, JR being the town drunk doesn't help. There are, however, a couple things which can save JR from being convicted. One is the fingerprint Richie left on Zach's money clip. The other is Zach's memory. Will Zach remember it was Richie and not JR who ran him down? If/when Zach remembers will he keep quiet about the set up because JR wasn't convicted of a previous hit and run? Will JR and Greenlee start a support group for people who are set up for crimes they didn't commit in order to be punished for a previous similar cri me? (In Pine Valley that sentence makes sense. Really it does.)
Richie has done reprehensible things. Richie has done unforgivable things. As Lily might say, the statistical odds are in favor of Richie doing even more reprehensible and unforgivable things. And I'm OK with that. My biggest Richie fear isn't that he will continue doing bad things, but that he won't.
AMC might make the same mistake with Richie that they made with Jonathan. Once the actor became popular, AMC thought the only way to keep Hockett onscreen was to redeem Jonathan via brain tumor. Jonathan "they cut the bad out" Lavery is not nearly as interesting as Jonathan "Primal Fear" Lavery was. It's entirely possible that Richie will be redeemed by the wonder that is Babe's love. Or his leukemia will turn out to be the kind of disease that turns an evil person into a good one (remember this is Pine Valley). A redeemed Richie would lose the very thing that makes him interesting in the first place- his very special twisted view of the world.
The last morally ambiguous character was the pre-Megan McTavish David Hayward. David was very loyal to the people he loved yet was entirely capable of doing reprehensible things to those he didn't love. David could save a life one day and develop a drug to hurt an enemy the next. The best and perhaps most interesting thing about David was that he acknowledged his moral ambiguity. Richie would be perfect as a morally ambiguous character. The actor seems capable enough to play that, but are the writers interested in that type of character anymore? (Zach doesn't quite fit into the morally ambiguous category.)
Like David, Richie could carry on the fine tradition of calling people on their hypocrisy. (I'll pause here to wave to the Martins and the Careys.) David seldom lied about who he was which explains why people like the Martins drove him crazy. The world doesn't exist in black and white, so why does Pine Valley? (It's not because it's a soap. Agnes Nixon's AMC had many shades of grey.)
One of the characters hurt most by this need to write only in black and white is Tad. Tad began his journey across the Rubicon when he became involved with the Mirabess Mess. He was fairly close to the other shore when he buried Greg Madden alive. Tad easily reached the other side when he let Zach take the blame for Madden's death. Tad could be really interesting if after all these misdeeds Tad wasn't still written as wearing a white, not a deservedly grey, hat. Each time Tad admonishes someone, usually Adam, for their misdeeds, his hypocrisy and lack of self-knowledge makes him less interesting and more infuriating. There was a time when I believed a few visits from Ray Gardner would make Tad take an honest look at himself. Now I believe even a visit from Ra y couldn't save Tad.
What else. What else.
AMC has now entered a new era- the era of interchangeable Dereks. Does ABCD really think all police chiefs look alike?
"But you're not in prison anymore." Any more scenes with Babe and prison might start looking pretty pretty good to Richie.
"This is you. This is your fault." Not really, Kendall. I have finally figured out whose fault this really is. It's Vanessa's fault. She caused Leo's death which led to Greenlee's breakdown which led to her obsession with Ryan and so on and so on and so on.
Adam eating croissants had me wishing I was a croissant.
Erica changed attitude about Zach reminded me of Phoebe changing her attitude about Donna. Now if only Erica had Phoebe's attitude about being called "Grandmother."
"It's just that I love Tad, too." Way to break your father's heart, Colby. And mine, too.
Seeing Colby reminded me that we haven't seen Sean for months. Is he still living in Pine Valley? Has joined Reggie at the basketball camp/tour that never ends?
"I'm almost finished up here and have a little time. I want you to show me Paradise big fella." OK so that isn't exactly what the vegetable lady said to Zach but it's what I said to him in my head.
"And I really think this is none of your business." This restored my interest in Annie. Almost.
"Not everyone is blameless here. Not even me." My interest in Josh gets bigger every time I see him.
Greenlee's interest in Alphonso freaked me out the first time. Now I think it's further evidence that she is disturbed
Not being new to PV like Ava, I didn't find it random that Julia and Jack were talking. After all, Jack was part of Julia's and Noah's wedding party. I'll never forget Jack commenting on the size of Noah's codpiece.
I want to be the filling in a Kyle/Richie sandwich. With a serving of Josh on the side.
Aidan whining about Greenlee being in a 4x8 prison "hellhole" irritated me. Why hasn't anyone (Kendall) ever whined about Trey being in a 4x8 prison "hellhole" for the past 100 years?
Avuncular Jack is sexy. Jack constantly referring to Greenlee as a victim? Not so much.
Greenlee running away to Canada had me reminiscing about her first trip there. Remember when she opened her purse to reveal Ryan's testicle clown nose? Good times.
Will this week's spoilers have us feeling like victims or not? Let's see:
Further proof that it really was a bad moon rising:
While trying to reach help, Zach and Greenlee fall down a hole.
At least Greenlee has had experience falling down a hole. Poor Zach is a falling-down-a-hole virgin.
Greenlee and Zach discover they have fallen into a fallout shelter. Luckily Sissy Spacek, Brendan Fraser and Christopher Walken are there to greet them.
If only. (It really would be fun to see Thorsten Kaye and Christopher Walken in a scene together, wouldn't it?)
Greenlee plays "Cherry Ames:Fallout Shelter Nurse" with Zach. (If you have never heard of Cherry Ames you will have to trust me that this is somewhat humorous. If you have not heard of Cherry Ames it means that I am a lot older than you are, but let's not dwell on that, OK?)
"If I help Zach with his wounds maybe he'll like me. He'll really really like me."
While wandering around the woods looking for hidden holes Richie finds Zach and Greenlee. Richie assures them that he is there to help them. Little do they realize that Richie's idea of "helping" them involves sealing the entrance to the fallout shelter.
Richie really is a little minx, isn't he?
Delirious with pain, Zach says some things that surprise Greenlee.
"I like Greenlee. I really really like Greenlee."
Erica and Kendall find Zach's abandoned car. Kendall freaks out when she see blood on the seats.
Oh goody, because Kendall hasn't had anything to freak out about in at least an hour.
Kendall freaks out when out when she finds the picture of JR, Babe and Lil'A.
Oh goody, because Kendall hasn't had anything to freak out about in at least two minutes.
Kendall freaks out when Derek refuses to arrest JR.
Oh goody, because Kendall hasn't had anything to freak out about in at least 10 seconds. (Alicia must be exhausted from playing "freaked" every day. For months. And months.) And why isn't Kendall freaking out because Derek suddenly looks and sounds different than he did last month?
Meanwhile, back in the Valley:
JR tells Ava about his drinking problem.
JR's relationship with Ava might just give me a drinking problem, too. What is he doing with Ava when he already has Amanda?
Amanda goes to visit her mother on Thanksgiving. Amanda realizes that the medication is causing Janet to lose her memory.
Oh well, at least I still have my Janet memories.
The Martins and the Chandlers spend Thanksgiving at the Comeback. Tad's attitude towards Adam makes everyone see Tad as a turkey. In my dreams.
At first this spoiler distressed me. I know that the AMC set budget is small. Really, really small. Why not have Thanksgiving on the Yacht Club terrace? AMC has had at least one other outdoor Thanksgiving. Since the Valley Inn dining room seems to have disappeared, why not rearrange the lounge for the day? Why not the boat house ? Finally it dawned on me that the Comeback is the perfect place. After all, several men attending the celebration have experienced the Carey Cornucopia of Comfort.
Celine Dion is a guest on New Beginnings.
AMC is at the bottom of the ratings. Instead of devoting money and time to fixing the show TPTB decide that a ratings stunt will produce long term benefits for AMC? The only way I could enjoy this is if CD covers Bob Saget's "My Dog Licked My Balls.<<==(highlight with your mouse to see)
Oh, those AMC actors:
Eden Riegel brings Bianca back to the Valley on December26th and 27th.
Is Bianca returning to give nuBabe her blessing? Is Bianca returning to tell everyone to forgive Greenlee? Or is she returning for something I might actually want to watch?
Malachy McCourt returns next month as Father Clarence, The Christmas Angel of Death.
Nothing says "Christmas" like an angel whose idea of a miracle is a fatal car crash.
Here's to another week in the Valley!


---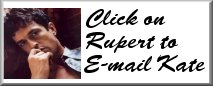 ---
Kate's AMC Spoiler Archives For 2007